Custom Jewelry For Men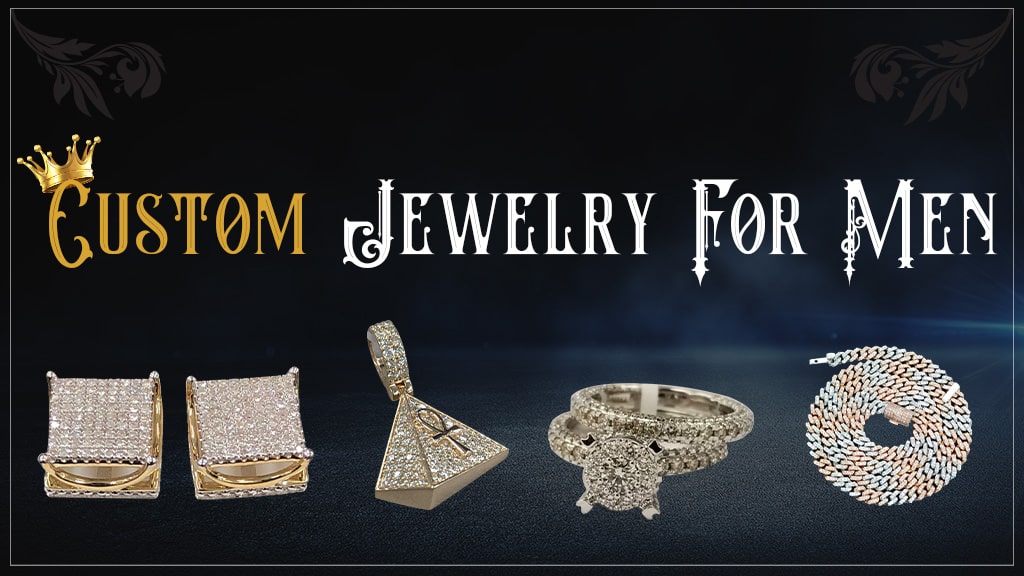 Custom Jewelry for Men
Want to order best custom jewelry designs for your boy? So, we have special collection for men. You can find the latest men's jewelry designs at our store. Our Gold Rush Custom Jewelry located in 2100 Hamilton place blvd Suite 1016 Chattanooga JCPenney TN. Gold Rush was established 34 years ago. The first store was opened in 1986 at East Gate Mall and, the second one was opened in Hamilton Place Mall Chattanooga. You can find variety of fashion jewelry here. Our huge range in wedding rings, earrings, watches, pendants, necklaces, etc. All are available in diamond, gold, silver, and custom jewelry for men. Our store delivers the best quality and unique styles that you cannot see in the world. We have reasonable prices according to your budget. You will pleased to listen that we are providing the best jewelry that will last for a long time. For further details you can go below!
Men's Custom Jewelry Necklace
Jewelry ever play an important role in the top men's collection. But, as in fashion men's and women's custom jewelry increasing day by day. And, in men's collection necklaces are very famous option.
Men's Nameplate Necklaces
Whereas, mostly boys like to wear necklaces that are printing by his name or you can say nameplate necklaces. So, if you are one of them you can come at our store where you can meet your desires. We are providing these necklaces in reasonable prices. Also, you can get jewelry at your place by online shopping from our store. For this you have to login on our website first.
Men's Personalized Bar Necklace
You are stuck in some confused situation and tomorrow is your husband's birthday? You are confused about a big present? You want to give him an amazing gift that will make his day a special one. You must be think once about a necklace that is the sign of love. Yes, you must be purchased for him a bar necklace with his nameplate. I am sure he will definitely impressed and happy to see this gift. So, we are here for you to provide this beautiful jewelry. You can visit our store or get this online through our website.
Custom Chains for Men
Now the custom chains are very popular and trendy just like custom necklaces. Many men wear on their outfits. Without chains their outfit not as attractive as with the chain. If you want then you must be visit our store. Here we are have many types of jewelry for you.
Silver Chain for Boyfriend
However, if you need a gift for your boyfriend then we have the best choice for you. We have chains in silver. Many designs are available in it. You can share your own idea with our jewelers also. You can visit our store or reach out us through our website easily. 
Men's Diamond Initial Pendant
Such as necklaces and chains initial pendants looks great on men. Men's personality enhanced with these pendants. We have these pendants in diamonds, gold and in silver also. Well, if you need then you can visit our store and get these pendants in reasonable prices. Also, you can visit our website to get online at your door step.
Conclusion:
For getting more ideas about men's jewelry and accessories you can visit our store. Also, you can share your ideas and thoughts with us in a comment section below.